Mexican volcano Colima was a lot of ufologists
We wrote on our website that in his time near Mexican volcano Colima was installed — web-camera Live Internet Cam that allows scientists volcanologists watching this fire-breathing monster, and ufologists constantly catch here UFOs and other anomalies .
For example, a user of YouTube with the nickname Tenshi Mex may boast that occasionally «catches» UFO appearing in the lens of the DVR. His latest «catch» occurred on 12 March this year. Here as commented by the UFO video, which he posted for all to see on the Internet (see below):
To observe the Colima volcano is my passion, I have 5 years doing this. During this period I managed to record 40 cases, when the fire-breathing monster or he was flying near a UFO. All these records can be found on my channel. However, I must say that not all the aliens are so «blatantly careless», as this time, so that the current video can be called the most successful, because the recording sounds clear, well, just unique. I am very pleased with this, that is my five years of efforts were not in vain and, finally, has achieved real success.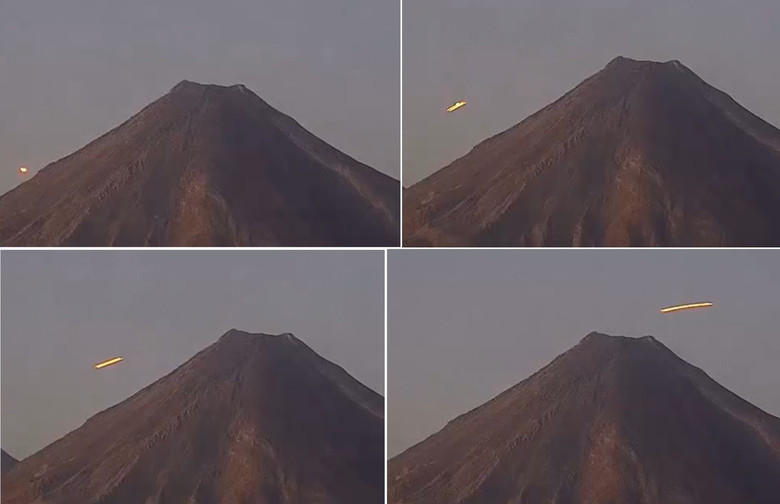 In fact, the video is well viewed as from the bottom of the Colima UFO suddenly appears, shining yellow light. Many netizens assumed that it recorded the device off aliens from their underground base, with this agreement and the author of the video. He believes that the long-term monitoring of the volcano has led him to the conviction that it is the largest base of aliens, where there are machines of various modifications.
To date, videotapes cigar-shaped UFO, and very «fiery» (bright yellow) leaves from the base, does a little flyby of the volcano, then climbs up and ends its voyage in front of web camera, Live Internet Cam clearly flying over the Colima. Stunner! Agree with that almost all world wide web users who are interested in this subject and who often «rife» on channel ufologist Tenshi Mex.
Video: Mexican volcano Colima was a lot of ufologists