Bigfoot walking through a forest glade, accidentally hit the camera lens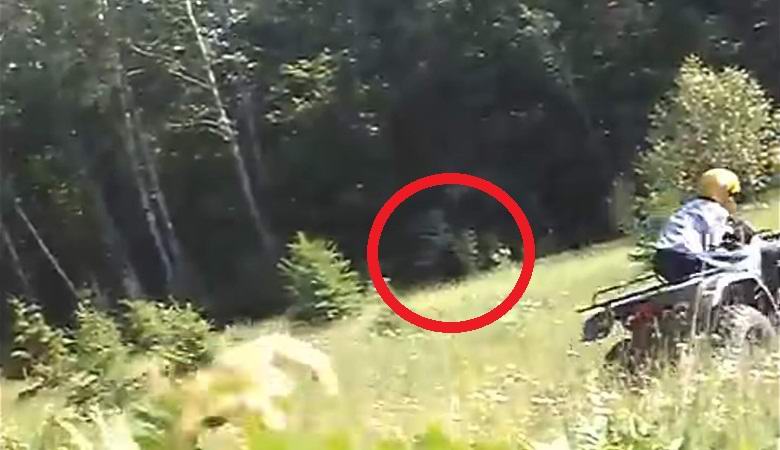 5 may on the popular YouTube channel «Nv Tv», dedicated to the observation of a snow man, there was another very interesting video .
At the moment, he has already gathered over 210 thousand views. Amazing shots received recently, somewhere in North America, show a teenager rolling around on the forest glade on four-wheeled ATVs. The young man decided to capture their stunts on video, so I set the camera on a stump.
Roll and nasnimat and our hero took the recorder and left. House viewing the resulting video, he came in some confusion, suddenly noticing in the background, near the edge of the forest, an unusual stranger. Tall and dark, humanoid figure appeared in a certain moment from the bushes and walked under the canopy of trees. As the author, and his family, which he immediately showed the footage, considered that the video accidentally got a real Bigfoot.
Many users of the world wide web also came to the conclusion that we are talking about the legendary Riptide.
This is the best way to capture them on camera when they don't know they're being filmed, writes one commenter on YouTube.
In fact, several of them in this video! A couple I glimpsed among the trees – said the other.
If it happened to me something similar, I would never in my life no closer to the forest, and indeed would be in the forest did not go, – says the third.
Of course, there were hardened skeptics who thought it all a hoax and began to argue that this is just a kid (friend of the operator) in a black suit, and not Bigfoot. Famous cryptozoology meanwhile refused to draw any absolute conclusions. According to them, the video is real, no video editing, but that was in objetiv camera is hard to say. In any case, the material is interesting, requiring careful study and analysis…
Video: Bigfoot walking through a forest glade, accidentally hit the camera lens