The ancient Etruscan city — Civita di Bagnoregio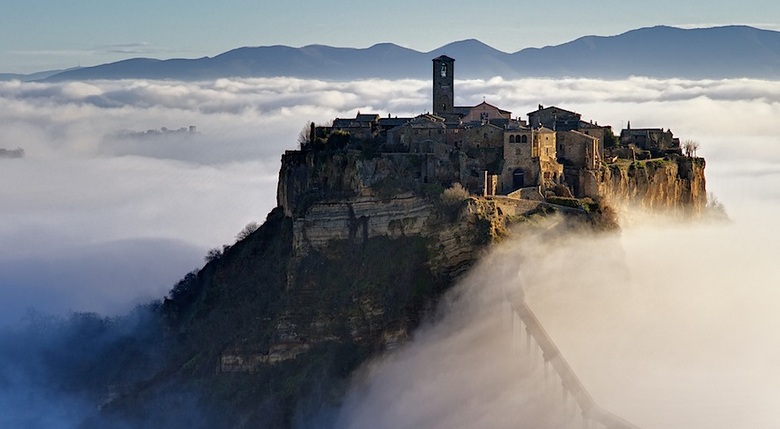 This remarkable Italian city in the first place so that was founded in antiquity when the area was dominated by the Etruscans, who know a lot about all the «strong and healthy» life. But because there was a city on a high hill with a magnificent view of the surrounding neighborhood, creating a certain harmony between aesthetics and safety .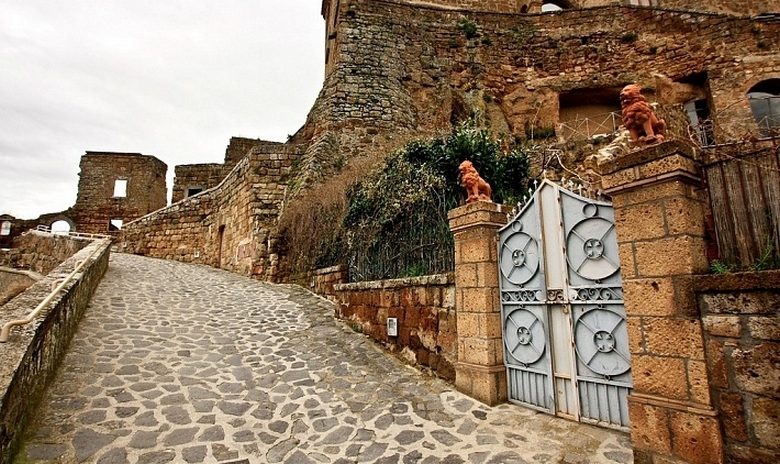 Moreover, the location of Civita di Bagnoregio was convenient and geographically, as he stood not far from the capital of Italy. To Rome and today it is only two hours away by car, it seems that in ancient times horses this way were overcome quickly and easily.
Until the XVII century, Civita was flourishing, but then this place seriously rocked, making the hill on which was located an amazing city, subsided, it collapsed, and the building literally started to slide down and fall off a cliff.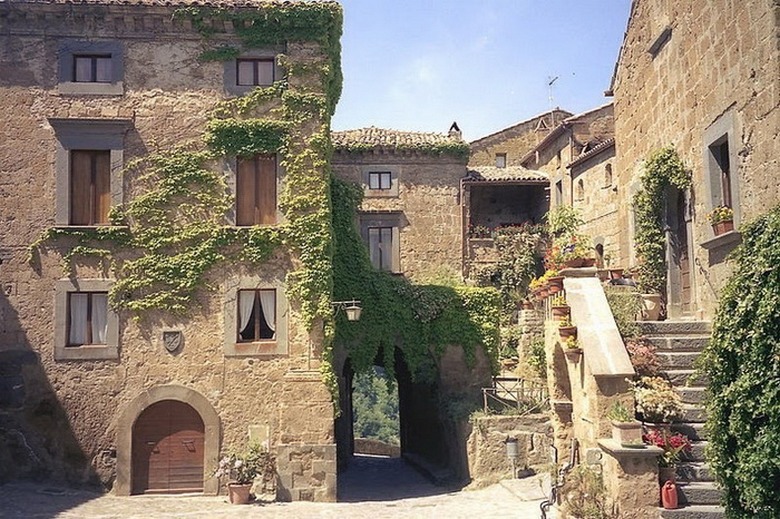 Regular landslides due to rain completed its job, and the city gradually became extinct. When the majority of the residents it became clear that hill remain just dangerous, people EN masse began to leave, reaching to neighbouring villages. And Civita gradually emptied. Finally, municipal authorities, head of the local Church, too, has left this sinking ship.
Supposedly dying Civita di Bagnoregio is very much alive
However, Civita di Bagnoregio, it may seem strange, is still alive, although they call it a city extinct, a dying town and that sort of thing. But it's already XXI century and it is still pretty intense rushes of tourists. What they find in this shadows of the former luxury living:
first, Civita is one of the most striking sights of this area of Italy;
second, to get to Civita quite easy and short;
finally, in this unique place you can enjoy a stroll along the ancient «dead» city, sit in a cozy cafe, to buy some simple Souvenirs and even spend the night in a local hotel.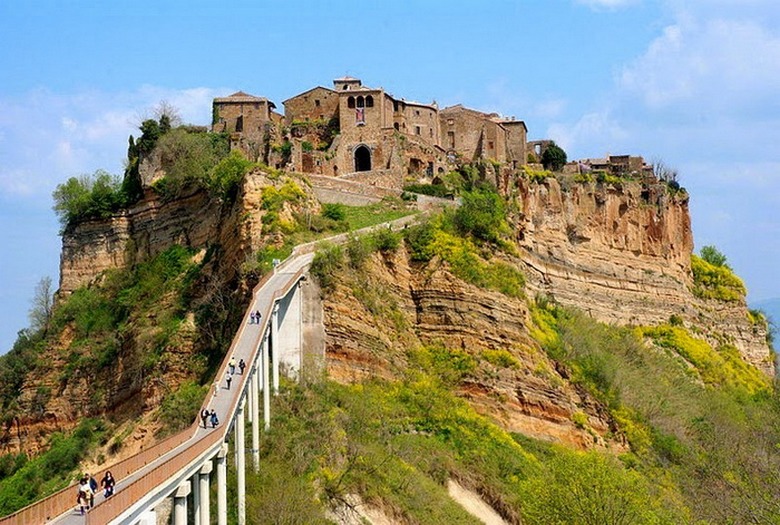 True to the city will have to get through a long and narrow pedestrian bridge (today is already quite civilized), but the game, as they say, is worth it because outside of this little adventure – the middle Ages now, as if animated or recreated for you the art of cinema. But there's no craft in this case is not required, the time, untouched by civilization, itself has retained all its original form. Yes they are still locals who don't want to leave a mysterious and magnificent city on the hill.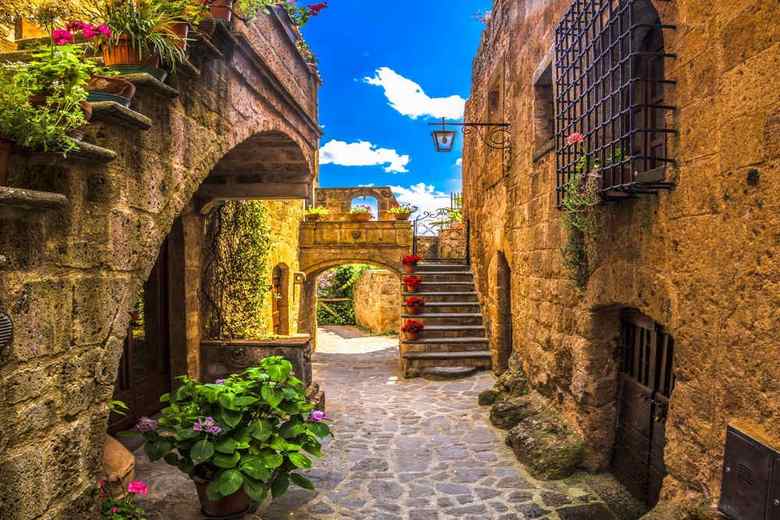 However, it is worth noting that the hill on which is located Civita di Bagnoregio, continues to slide, settle, i.e., to collapse. For this reason, if you want to spend the night in a local hotel, you are sure before that read the instructions on how to behave in case of unexpected ground movements.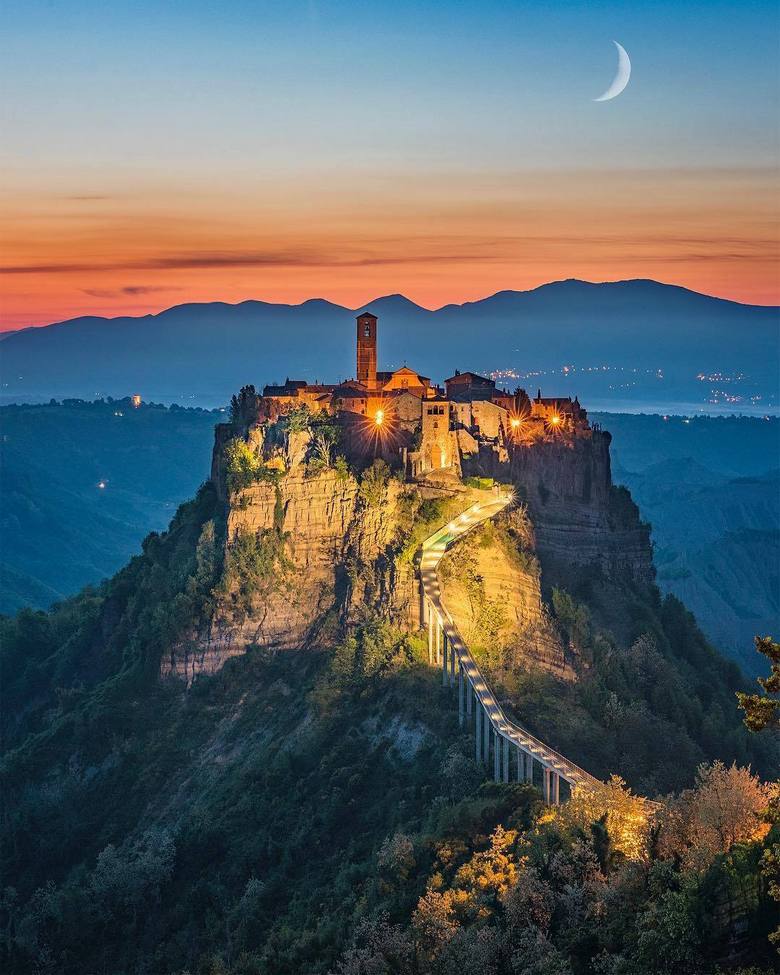 Such a danger exists, but it does not stop tourists who claim that after all the impressions that remain from seen day or night in this hotel simply dream fabulous dreams will take you back centuries, where once you lived in your previous incarnations.
Don't believe? But the local guides claim that in the dying city of Civita di Bagnoregio rush in the first place by those who once lived and has completed the earthly journey here, and that people are ready to overcome any distance and difficulty to visit this fantastic place. And if after reading this sketch about the «city of the dead» (and view a great video about it) you also pull in Civita, it is possible that you were once Etruscan and lived on the Apennine Peninsula in ancient times, because this city – almost two and a half millennia…
Video: Ancient Etruscan city — Civita di Bagnoregio